Long layover? – Here You can find Airport Sleep Pods
Sleep pods at airports are becoming an increasingly popular service for flight passengers. We are proud to have our EnergyPod featured in airport lounges across the world. Here are some of the most prominent installations.
BA's Forty Winks Nap Lounge (Heathrow, UK, T5)
British Airways' spacious nap lounge is named after the peculiar British expression for a nap. Forty Winks offers travelers the opportunity to rest in one of its seven airport sleep pods, as well complimentary towels and hot water for an extra refreshing experience. The lounge is available to all lounge-eligible travelers flying with British Airways.
Aspire Lounge (London Luton Airport, UK)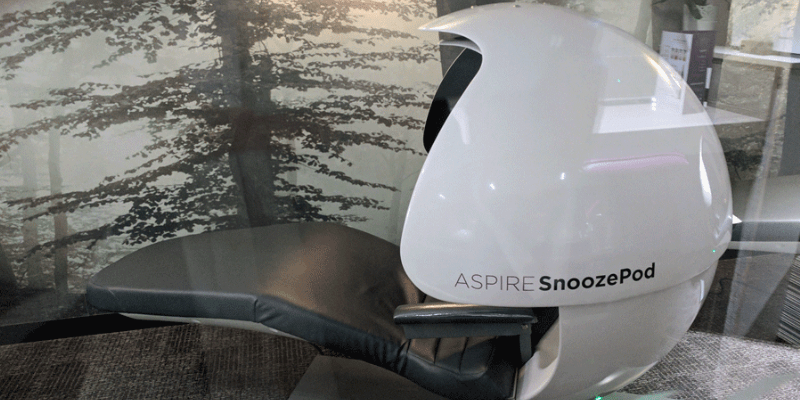 A paid entry lounge with five-star reviews, the Aspire Executive Lounge offers complimentary food, drinks, Wi-Fi, and the opportunity to nap or work in lavish surroundings. It is no overstatement to say that this airport lounge has it all. One can even have a hot shower for an additional charge. The Aspire Executive Lounge is open to all travelers (there is a smart-casual dress code, though). Entry passes are valid for up to three hours before a flight.
Changi Lounge (Jewel Changi Airport, Singapore)
Changi Lounge is one of the main attractions within the large mall of Jewel Changi Airport in Singapore. This pay-per-use facility offers calm and pleasant surroundings, and a great variety of services such as food and drinks, showers, meeting rooms, and naps in an airport sleep pod.
This lounge has been credited for its familiar atmosphere and cozy sofa arrangements, and the Changi Jewel airport is even more spectacular with its lush nature theme and 130 ft. indoor waterfall. It certainly stands out from the crowd of other airports.
Jetex Executive Lounge (Dubai, FBO Terminal, United Arab Emirates)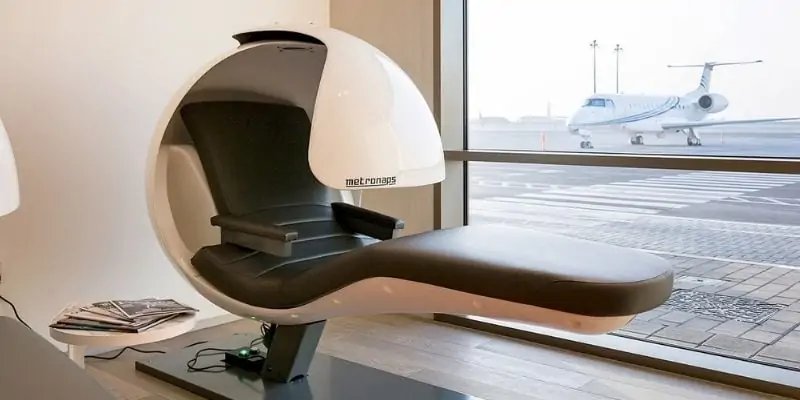 The Jetex Executive Lounge is the biggest and most luxurious FBO facility in Dubai, and possibly the world. For instance, how about a Rolls-Royce airside transfer, or a dedicated cigar lounge? Throughout all the glamorous facilities, the more fundamental need for sleep is also covered through the presence of two airport sleep pods from Metronaps.
Jetex Executive Lounge is a fixed-based operator (FBO), meaning that you will likely have to own a private plane or be the pilot of one to enter.
Other spaces with nap pods
The Metronaps EnergyPod has found its way to a wide array of industries, including airports, spa resorts, offices, health care institutions, and athletic teams. Have a look at our client section to explore more installations.