Nap pod installed at Poole hospital (UK) thanks to generous donation
Thanks to a generous donation by several British funds, health care workers of Poole hospital's anesthetic department can now grab some much-needed rest: The hospital just received their brand new EnergyPod, and are now ready to battle fatigue at the workplace as part of the Royal College of Anaesthetists' Fight Fatigue campaign.
"We understand the invaluable difference this will make in allowing the anesthetic team to take comfortable breaks when working long night shifts," says Samantha Lowman, Senior Brand Executive at LV Life and Pensions to the Bournemouth Echo.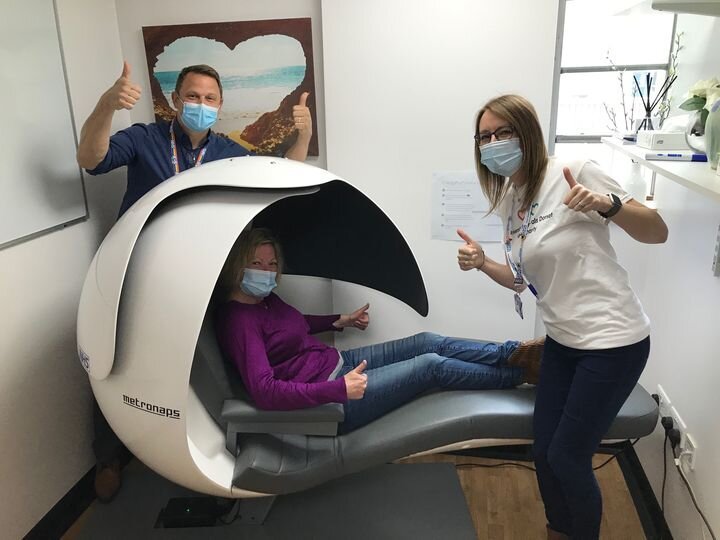 Happy Health care workers from Poole Hospital's anesthetic department with their new EnergyPod.
Nap pods are becoming the standard at British hospitals
The new EnergyPod at Poole hospital is far from the first nap pod installation at a UK hospital. Realizing the importance of well-rested workers, a large number of NHS hospitals have installed nap pods or sleep pods in one form or another.
The reason is far from coincidental: Drowsy health care personnel have serious consequences every day, including medicine and diagnostic errors, as well as doctors falling asleep behind the wheel on the way home from a night shift.
Nap pods provide a space-efficient solution allowing doctors and nurses to rest and recharge.
The battle against fatigue at work continues
Here at Metronaps, we are very proud to be serving the health care sector in the UK as well as in other countries across the globe. We are certain that our equipment has a tremendous impact on the health of both staff and patients alike.
We hope to be able to do more installations in the health care sector in the future and to be part of bringing down the statistics of medical errors, as well as burn-out among doctors and nurses.
If you are interested in reading a white paper about the use of our EnergyPod in health care, feel free to contact us.
Sources